Global nitrile gloves market is projected to grow at a CAGR of 14.25% to reach US$15.926 billion by 2024, from US$7.162 billion in 2018.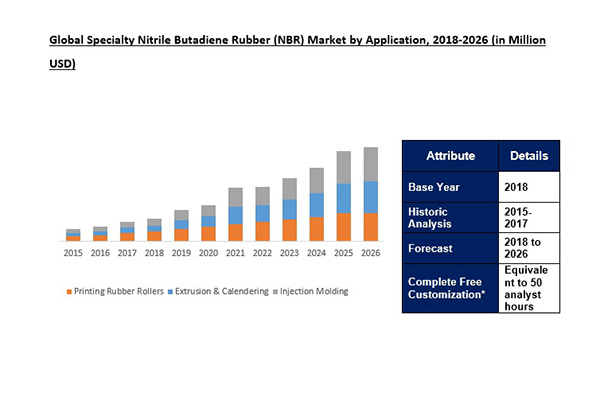 Rising concerns regarding latex allergy is the major driver of nitrile glove market. Ban on powdered gloves by the FDA (U.S. Food and Drug Administration) and in some European countries is escalating the demand for powder-free nitrile gloves. Strict regulations regarding workers' safety coupled with high focus on hygiene across various end-use industries such as oil and gas, chemical, and food processing is further boosting the demand for nitrile gloves globally.
Moreover, nitrile gloves have higher chemical and puncture resistance than latex gloves which is also positively impacting their demand in different industries. Geographically, U.S. dominates the global nitrile gloves market owing to the ban on powdered medical gloves and high number of cases regarding latex allergies in the country.
By type, global nitrile gloves market has been segmented as powdered and powder-free. Powder-free nitrile gloves market will grow at a high CAGR during the projected period owing to the growing health concern regarding the use of powdered gloves. Recent ban on the use of powdered gloves in healthcare facilities by the FDA further reduces the demand for powdered nitrile gloves, thereby positively impacting the growth of powder-free nitrile gloves market.
By end use industry, global nitrile gloves market is segmented as automotive, oil and gas, healthcare, food processing, construction, chemical, and others. Healthcare accounted for a large share in the global nitrile glove market in 2018 and is projected to continue dominating the market till the end of the forecast period.
Geographically, global nitrile gloves market is segmented as North America, South America, Europe, Middle East and Africa, and Asia-Pacific. Advanced economies such as EU, U.S. and Japan collectively account for about 68% of global glove consumption.
Major industry players profiled as part of the report are Top Glove Corporation Bhd, Hartalega Holdings Berhad, Kossan Nitrile Industries Bhd, Supermax Corporation Berhad, and Latexx Partners Berhad among others.
Study Coverage
This research study examines the current market trends related to the demand, supply, and sales, in addition to the recent developments. Major drivers, restraints, and opportunities have been covered to provide an exhaustive picture of the market.
The analysis presents in-depth information regarding the development, trends, and industry policies and regulations implemented in each of the geographical regions. Further, the overall regulatory framework of the market has been exhaustively covered to offer stakeholders a better understanding of the key factors affecting the overall market environment.
Identification of key industry players in the industry and their revenue contribution to the overall business or relevant segment aligned to the study have been covered as a part of competitive intelligence done through extensive secondary research. Various studies and data published by industry associations, analyst reports, investor presentations, press releases and journals among others have been taken into consideration while conducting the secondary research.
Market intelligence is presented in the form of analysis, charts, and graphics to help the clients in gaining faster and efficient understanding of the Global Nitrile Gloves Market.
Key Topics Covered
1. Introduction
1.1. Market Overview
1.2. Market Definition
1.3. Scope of the Study
1.4. Currency
1.5. Assumptions
1.6. Base and Forecast Years Timeline
2. Research Methodology
2.1. Research Design
2.2. Secondary Sources
3. Executive Summary
4. Market Dynamics
4.1. Market Segmentation
4.2. Market Drivers
4.3. Market Restraints
4.4. Market Opportunities
4.5. Porter's Five Force Analysis
4.6. Life Cycle Analysis - Regional Snapshot
4.7. Market Attractiveness
5. Global Nitrile Gloves Market by Type
5.1. Powdered
5.2. Powder-Free
6. Global Nitrile Gloves Market by Grade
6.1. Medical Grade
6.2. Industrial Grade
7. Global Nitrile Gloves Market by End-Use Industry
7.1. Healthcare
7.2. Automotive
7.3. Food Processing
7.4. Construction
7.5. Oil and Gas
7.6. Chemical
7.7. Others
8. Global Nitrile Gloves Market by Geography
8.1. North America
8.1.1. U.S.
8.1.2. Canada
8.1.3. Mexico
8.1.4. Others
8.2. South America
8.2.1. Brazil
8.2.2. Argentina
8.2.3. Others
8.3. Europe
8.3.1. UK
8.3.2. Germany
8.3.3. France
8.3.4. Spain
8.3.5. Italy
8.3.6. Russia
8.3.7. Others
8.4. Middle East and Africa
8.4.1. Saudi Arabia
8.4.2. UAE
8.4.3. Israel
8.4.4. Others
8.5. Asia Pacific
8.5.1. China
8.5.2. Japan
8.5.3. India
8.5.4. Australia
8.5.5. Others
9. Competitive Intelligence
9.1. Market Share of Key Players
9.2. Recent Investment and Deals
9.3. Strategies of Key Players
10. Company Profiles
10.1. Top Glove Corporation Bhd
10.2. Hartalega Holdings Berhad
10.3. Kossan Nitrile Industries Bhd
10.4. Supermax Corporation Berhad
10.5. Latexx Partners Berhad
10.6. Cardinal Health
10.7. Riverstone Holdings Limited
10.8. Towa Corporation
10.9. Ammex
10.10. Honeywell International Inc.
10.11. MCR Safety
10.12. Longcane Industries Sdn. Bhd.
10.13. Dipped Products PLC
10.14. UG Healthcare Corporation
10.15. Omar, Inc.
10.16. Rubberex
For more information about this report visit https://www.researchandmarkets.com/research/mnmcj2/global_nitrile?w=4